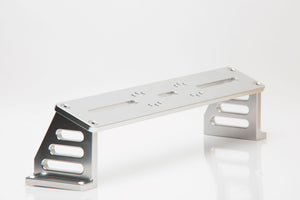 We start with a solid 3/8" aluminum bar stock, we machine in common gimbal bolt patterns for all of the current electronics manufacturers. Or bar mount spans 13 7/16" and is 4 1/2" tall and is tilted back 22 degrees. Clear Anodized to keep this mount looking great for years!
Our Bar Mount is the first CNC machined billet aluminum bar mount on the market. 
Drilled with common gimbal patterns we include stainless steel mounting hardware for your gimbal.
Check out our FAQ's to see if your graph fits this mount.