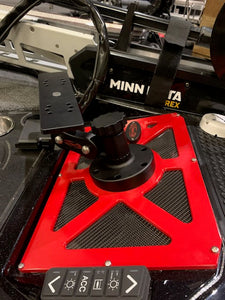 Innovative product development and design is what we do best. Bringing the finest materials, ultimate customization, and design together in one package for your boat. 
Our Carbon Series Dash and Bow plates are truly for the person wants the best and wants to stand out from the crowd.
For our Carbon Series Bow Plate please select if you want a Stack Mount (dual electronics) or a single setup with our Extreme Mount.
Powder coated billet aluminum frame with black hand laid carbon fiber backing, and flat black accessories! Match your boats accent colors or main color.
Available for the Ranger L series ,Ranger C series, Skeeter FXR, more models to come. Call us or Email us at sales@geigertecmarine.com to see if you have a setup for your boat!
Our Dual Dash Mounts and Bow Stack or Singles are CNC Machined from billet aluminum, they feature a 5/16" custom color powder coated backing plate. 
The knob allows graphs to be easily removed in order to fit under the boat cover and to deter theft.
The plate also features a large wire access hole featuring machine rounded edges and a custom billet aluminum wire cover to keep everything tidy.